Wish you could have made it to Dreamforce 2019? So do we… But we have put together our top 5 highlights from the conference, so nobody has to miss out!
The four-day Dreamforce conference took place from 19-22 November in San Francisco, welcoming Salesforce customers, partners, sponsors and fanatics from all around the world. With thousands of sessions and presenters and over 50 speakers, it was very difficult to choose our favourites!
What's New?
Salesforce unveiled a few new products and features, including Salesforce Customer 360, and advancements in Salesforce Einstein. Customer 360 is a "single source of truth" for Salesforce users and their customers, that connects all customer data within a single Salesforce ID. The customer's previous interacts, website visits, order history, contact details and more are consolidated into a complete overview, allowing companies to better address and even predict their needs and demands.
What's more, Salesforce Einstein's AI capabilities have been developed, introducing Einstein Voice Skills. Voice Skills allows Salesforce admins to create customised voice assistant functions for each of their users. The Salesforce team even brought along a little Einstein speaker to demo the improvements! The Einstein capabilities are not expected to be fully rolled out until 2021, but we can't wait to try them!
Barack Obama's keynote address
The former US-president touched on several big ideas during his keynote to a full audience, in conversation with Marc Benioff. He shared two big lessons that he has had for his daughters growing up, to "be kind and be useful". Obama elaborated on the importance of these lessons for young leaders as well, and how he and Michelle are overseeing the Obama Foundation, offering mentorship and training for promising young leaders.
Finally, Obama touched on the idea of equality, and technology's influence over society and the business world. He expressed his view that technology has given way to huge inequalities and driven a society focused on status and success. However, he still has hope that technology can turn things around…
"I still believe the internet could be a powerful tool for us to see each other and unify us, but right now, it's splintering."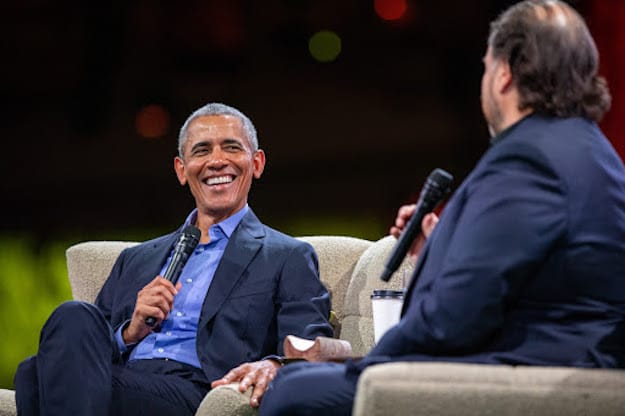 Developing the Apple partnership
After announcing their partnership last year, Apple was again a key part of Dreamforce in 2019. Alongside the CEO Tim Cook's conversation with Marc Benioff, two iOS app announcements were made during the conference. The Salesforce Mobile App got a makeover to enhance iOS capabilities and offer exclusive features for Apple users, and the new Trailhead GO app was launched. Trailhead GO is the first mobile app for Trailhead, Salesforce's free online learning platform, which facilitates the upskilling and reskilling of employees across any business – a key concern for today's business world.
Welcoming Tableau to the Salesforce Ohana
Salesforce officially welcomed its newest acquisition Tableau, a data analytics software, to the family. Tableau joins Salesforce's existing analytics offerings, Einstein Analytics and Datorama, to allows businesses to unlock the full potential and value from their data. The integration between Salesforce and Tableau will allow customers to better understand their data, and therefore their customers, to make smarter business decisions and drive more meaningful and connected customer experiences.
And of course… Dreamfest '19
Dreamfest, one the most highly anticipated events at Dreamforce, is an annual concert benefitting the UCSF Benioff Children's Hospital. Following last year's performance from Metallica, the bar was set high for this year's concert. The opening act, Beck, and headliner, Fleetwood Mac, certainly did not disappoint!